Info about Our Ribbon Cutting Ceremony
http://catawbachamber.chambermaster.com/events/details/ribbon-cutting-hickory-ballet-performing-arts-8-14-2019-6229
Press Release –  Summer Camps 
Summer Fun & Learning Opportunities at Hickory Ballet and Performing Arts
HICKORY — It's not too early to be thinking about summertime activities for the kids as Hickory Ballet & Performing Arts gets set to roll out its summer program. Featuring creative camps, dance classes, musical theatre offerings and acting intensives for children of all ages, the multi-week schedule begins the week of June 17 and continues into early August.
"We've crafted an exciting program focusing on an array of activities and skill levels," says HBPA Executive Director Leanna Bodnar. "Parents can enroll their children in one or more weeks of our summer camps or have them take part in our open dance classes. New this year are our acting camps, in partnership with Hickory Community Theatre. It's an amazing opportunity for kids 10-17 to gain acting experience and enjoy the fun and camaraderie of performing."
Summer Camps
Four and five year olds have six camps to choose from, including Bugs & Butterflies, Mother Goose, Ballerina, Fancy Nancy, Dr. Seuss and Under the Sea. Camps run from 9 a.m. to noon.
Rising 1st through 5th graders will enjoy three different weeks of Ballet Intensives, Musical Theater and a Skill Builder Week. Programs run from 9 a.m. to noon
Sixth through 12th graders can choose from Intermediate/Advanced Ballet Intensives, Youth Musical Theater, Acting Intensives, and Student Choreography. Programs run from 9 a.m. to 4 p.m.
Acting Intensives
A collaboration between HBPA and Hickory Community Theater for students ages 10-17. The acting camps will provide drama instruction, including scene work and character development. Two sessions: July 22-26 and August 5-9. Each session concludes with a final rendering at 5:30 p.m. on Friday in the Firemen's Kitchen at HCT.
Open Dance Classes
Open Dance Classes for ages 8 and up will be offered Monday, Tuesday and Wednesday, June 17-August 2 (closed week of July 4th) in Classical Ballet, Lyrical/Acro and Tap/Rhythm. Sessions are available for Beginner/Intermediate and Intermediate/Advanced students.
In addition, private lessons are available for vocal coaching and dance instruction.
To learn more about the summer activities program or to enroll, visit the HBPA website at www.hickoryballetpa.com, call (828) 328-3794, or email info@hickoryballetpa.com.
Press Release – Alice in Wonderland 
Hickory Ballet Presents Alice in Wonderland
NEWTON — The stage at the Old Post Office Playhouse will be transformed into an otherworldly scene when dancers from Hickory Ballet & Performing Arts unveil all the "curiouser and curiouser" characters in Alice in Wonderland in performances on May 31, June 1 and June 2.
Join Alice during the full-length ballet as she encounters extraordinary and hilarious characters, from the highly-strung Queen of Hearts, to a sinuous caterpillar to a tap-dancing Mad Hatter. Silly flamingos, adorable sea creatures and dancing cards help tell the topsy-turvy story that is entertainment for the entire family..
Principal dancers in the production include Eva Peterson as Alice; Mary Meinyk (May 31, 7:30 p.m. and June 1, 3 p.m.) and Kate Mullis (June 1, 7:30 p.m. and June 2, 3 p.m.) share the role of the Queen of Hearts; and Brilee Lutz (May 31, 7:30 p.m. and June 1, 3 p.m.) and Sophia Ford (June 1, 7:30 p.m. and June 2, 3 p.m.) take on the role of the White Rabbit.
"You won't want to miss this amazing production of Alice," says artistic director Adrienne Lowman. "The students have put an enormous amount of effort into learning all the parts in our interpretation of this enchanting ballet and the costumes are out of this world."
Show times are Friday, May 31 at 7:30 p.m., Saturday, June 1 at 3 p.m. and 7:30 p.m. and Sunday, June 2 at 3 p.m. Tickets are available by calling the Green Room at (828) 464-6128 or on the website at thegreenroomtheatre.org.
The Old Post Office Playhouse is located at 10 South Main Avenue in Newton.
Hickory Ballet & Performing Arts offers a full schedule of classes. Visit www.hickoryballetpa.com or call (828) 328-3794 for additional information. The studios are located inside Foothills Gymnastics, 920 29th Ave NE, Hickory.
Dancers Participate in Western Piedmont Symphony Fundraiser
https://www.hickoryrecord.com/news/ice-ball-raises-for-symphony/article_96aa1e9a-1c18-11e9-b1ad-335462bb7e58.html
Registration Open for Fall Semester at Hickory Ballet & Performing Arts
HICKORY — Registration for the 2018-2019 season at Hickory Ballet & Performing Arts is now open. This year, all students in the ballet program will also participate in performances of the beloved Nutcracker ballet, December 14-16, at The Old Post Office Playhouse in Newton.
Dozens of classes in a variety of dance disciplines and levels are designed to appeal to students of all ages, both youngsters and adults. Students may choose from Pre-ballet, Ballet, Broadway Rep, Gymnast Ballet, Freshman Tap, Modern Fundamentals, Men's Ballet, Pas de Deux, Ballet Pointe and many more. Additionally, the studio offers classes in Stage Presence, Yoga, Pilates, and Musical Theatre. Classes are held Monday through Saturday.
HB&PA is excited to introduce Kevin Martin, its new Resident Master Class Instructor. Kevin, an expert in Vagonova technique, will teach Advanced Intermediate-Pre Professional dance every Saturday morning from 10 to noon. Dancers from any studio are welcome to attend this class.
Adrienne Lowman, an eight-year veteran of the studio, has assumed the role of full time Artistic Director of Ballet and Educational Outreach. Adrienne has taught at each level of the school and draws on her extensive experience as both a dancer and choreographer to share her passion for dance with her students.
"We have a terrific line up of classes scheduled this fall," said HB&PA Executive Director Leanna Bodnar. "Our goal is to nurture students where they are, providing both challenges and successes. Some students intend to make dance or performing their career, while others just want to participate and have fun. Our expert instructors welcome them all."
A full schedule of classes can be found on the HB&PA website at www.hickoryballetpa.com or call (828) 328-3794 to register or for additional information. Partial scholarships are available every semester to a limited number of students. The studios are located inside Foothills Gymnastics, 920 29th Ave NE, Hickory.
Ten Benefits of Dance for Children
By sponsored advertising content from Hickory Ballet & Performing Arts
Aug 22, 2018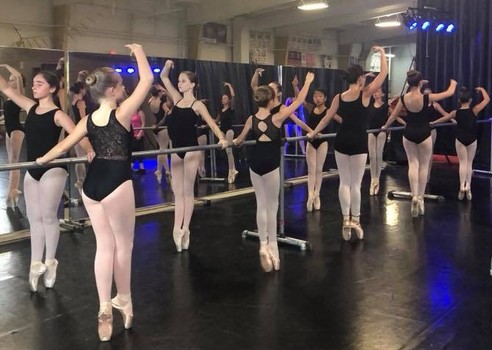 It's no secret that music and movement are directly connected to child development. Dancing sharpens the mind, strengthens the body, and is simply a wonderful activity for kids of any age. Here are ten reasons to enroll your child in dance classes:
Dance improves self-esteem.
Dance promotes creativity.
Dance strengthens classroom performance.
Dance encourages socialization and teamwork.
Dance instills great habits and accountability.
Dance improves physical health.
Dance promotes an active lifestyle.
Dance decreases anxiety and improves mood.
Dance develops an appreciation for the arts.
Dance is FUN!
Ready to dance? Hickory Ballet & Performing Arts is now enrolling ages 3+ for fall! We offer a pre-professional ballet program alongside a strong performing arts program. Our classes are taught by highly trained instructors in a positive and encouraging environment.
HBPA Open House: Friday, August 24th, 2018 from 5pm-9pm & Saturday, August 25th, 2018 from 9am-12noon. Hickory Ballet and Performing Arts invites you to come to our Open House! Meet some of our instructors, tour our studios and ask questions about enrollment. HBPA offers classes for children ages 3+ in ballet, tap, modern, lyrical, acro and musical theater. We also offer adult ballet, pilates and yoga!
Free Trial Week: August 27th -31st, 2018. Students may try any of HBPA's classes for free during this week with no obligation. Please call the office to sign up for a free trial class or two! Find out what type of dance your child likes best!
HBPA Fall Session: Fall classes begin August 27th, 2018.  Enroll today and start garnering the many benefits a dance education offers. Check out our website at hickoryballetpa.com for our fall schedule or like us on Facebook.
Call 828-328-3794 or email info@hickoryballetpa.com for more information!
https://hickory.macaronikid.com/articles/5b7daf12a6494208ba1c47ce/ten-benefits-of-dance-for-children